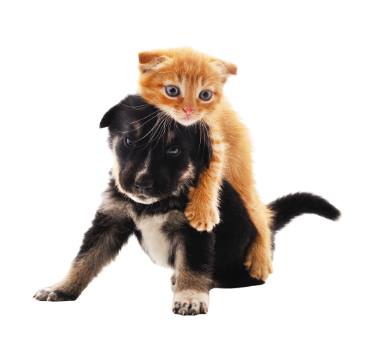 Certification Knowledge & Skills is our trademark professional pet groomer certification preparatory program. Specially designed for Students aiming to excel at Grooming Examinations and Competitions, this Program builds on the knowledge and skills from The Elite Positive Pet Groomer.
This program physically and mentally readies our best students for international certification, for example the Fédération Cynologique Internationale (FCI) grooming examinations, which are held by the Singapore Kennel Club (SKC). To pass the examination, candidates must demonstrate proficiency against international testing standards.
Upon passing the examination, the pet groomer is certified as having met the demanding standards of FCI in professional pet grooming. Furthermore, Students who perform exceptionally well during the examination will also be awarded by world-acclaimed grooming judges.
In an unregulated profession like pet grooming, independent, internationally-recognised certification is valuable to signify to clients that professionals possessing them are committed in pet care services rooted in qualified knowledge and skill.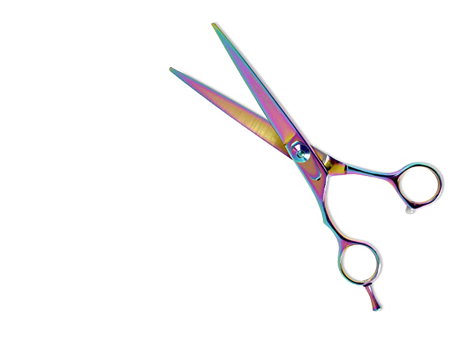 Certification Knowledge & Skills
Open for Application
Upcoming Intakes:


Start anytime, subject to Academy capacity
This Program is Compulsory for Students attempting the Fédération Cynologique Internationale (FCI) Grooming Certification Examination with Live Dogs and Highly Recommended for Students attempting the Examinations with Dummy Dogs
Singapore Kennel Club (SKC) is a Member of Fédération Cynologique Internationale (FCI) and administers the examination as the National Canine Organisation (NCO) in Singapore.
6 months limited email and telephone support upon Graduation.
Day & Time:
Tuesday, Wednesday, Friday, Saturday, Sunday, 10AM–4PM
Location:
Clementi Campus @ 352 Clementi Avenue 2 #01-117 Singapore 120352
Teacher to Student Ratio:
≤1:6
Monthly New Student Quota:
3
Maximum Academy Capacity:
6
SGD300 for application fee (non-refundable, applied towards tuition if accepted)
Level C (Apprentice): SGD9900/SGD13200 for thirty (dummy dog) / forty (live dog) lessons (flexi-schedule, weekday/weekend

, 5/6

 months validity)
Level B (Intermediate): SGD15000 for forty lessons (flexi-schedule, weekday/weekend

, 9

 months validity)
Level A (Advanced): SGD18000 for forty lessons (flexi-schedule, weekday/weekend

, 12

 months validity)
Maximum tenure: 9 months (C), 12 months (B) and 18 months (A). Extension fees levied at SGD500/month and offered in exceptional circumstances only, on a case-by-case basis
SGD2080 for Pawrus® Pet Grooming Academy (PGA) Student Set (professional grade)
SGD100 for Pawrus® Pet Grooming Academy (PGA) Workshirt, compulsory for Certification Knowledge and Skills Level C (Apprentice) Students (inclusive in PGA Student Set)
SGD80 for Singapore Kennel Club (SKC) Grooming Manual, compulsory for Certification Knowledge and Skills Level C (Apprentice) Students (inclusive in PGA Student Set)
SGD150 for Pawrus® Dummy Dog with 3 White Fur (C model purchase fees), compulsory only for Students taking the FCI Examinations with Dummy Dogs
≥SGD1350/≥SGD1800/≥SGD3000 for Pawrus® Live Dog (C/B/A model rental fees)

SGD100 for Pawrus® FCI Examination Admission Fee

Singapore Kennel Club (SKC) Fees are not inclusive. Students are responsible for registering and paying all required fees to SKC directly before the closing date. The Academy will provide specific instructions to Students when available
"This program was made to prepare serious students to achieve the top positions at grooming examinations and competitions."
Certification Knowledge & Skills is a Trademarked Pawrus® Pet Grooming Academy Curriculum, uniquely designed in collaboration with Pawrus® Animal Behaviour Clinic.
It is exclusively taught by Jasline Aiw, Senior Pet Grooming Instructor and Kevin Yeo, Senior Clinical Animal Behaviourist. This is the first and only professional pet groomer certification preparatory program in Singapore to be delivered by two pet care specialists with highly differentiated skillsets.
In this industry-leading professional program, you will learn the secrets of how we physically and mentally ready ourselves to break national and international records and subsequently apply these methods on yourself in preparation for certification.
This curriculum, the first-of-its-kind to be grounded in art and science, was inspired both by Edward de Bono's Lateral Thinking, a structured approach for thinking differently and TAGteach®, a revolutionary way of teaching using tag point. These methods have been used to nurture Olympic Champions, International Football Stars and even Hollywood Celebrities. Now, this unique pedagogy has arrived for Professional Pet Groomers! We believe that the mind holds the key to unlocking limitless possibilities. Thus, this preparatory program is developed to help you develop your mind by breaking down your goals systematically and taking actionable steps to achieve them. Upon graduation from the program, our "think-learn-grow" mantra will supercharge you to surpass your competitors and transform you positively beyond your wildest dreams.
Certification levels begin from C (Apprentice) to B (Intermediate) to A (Advanced) Levels. As the difficulties of each level increases disproportionately as you progress, expect to work harder and smarter at each level, as you commit yourself to climb towards the top of the mountain with us.
Certification
A Pawrus® Certificate of Achievement will be awarded to students who meet the strict requirements by passing a pet grooming theory and practical exam as part of the program's graduating requirements.
Furthermore, Fédération Cynologique Internationale (FCI) Grooming Certification would be awarded to Successful Candidates who pass the grooming examination in its respective level and category. Exceptional Candidates will be placed and awarded.
For Graduates, the Supervising Teacher will facilitate Career Development Pathways upon Graduation.
Pawrus® Pet Grooming Academy is a Singapore Kennel Club (SKC) Appointed Grooming Establishment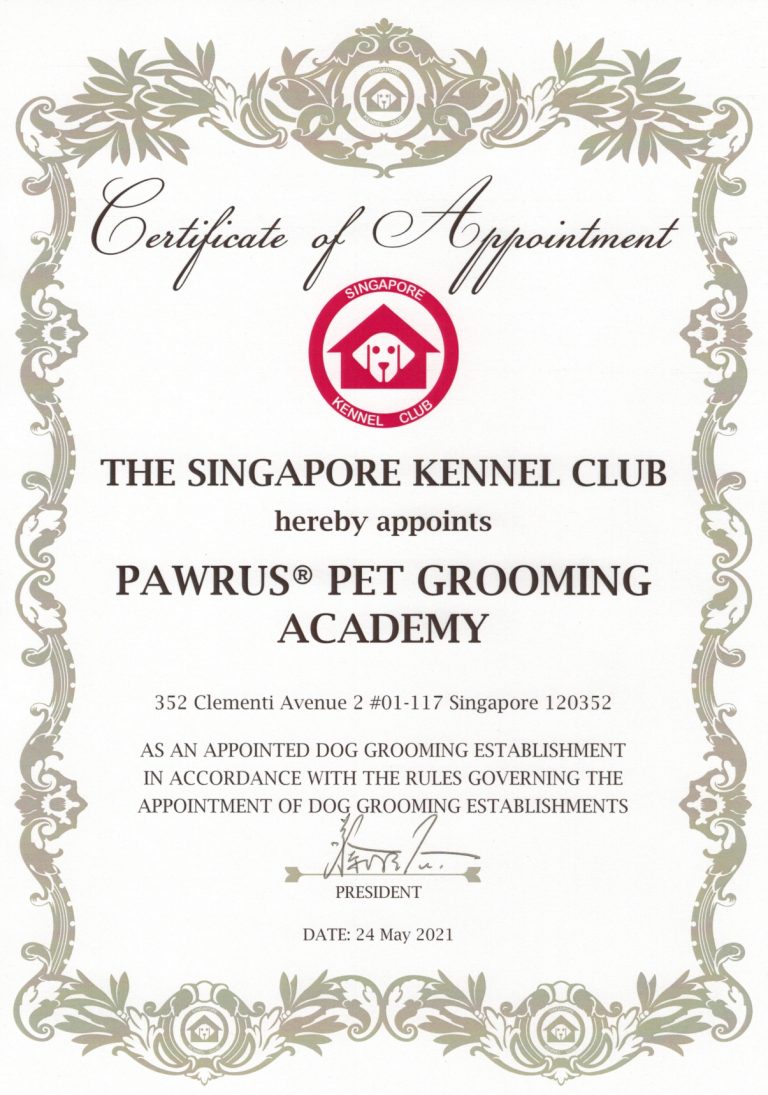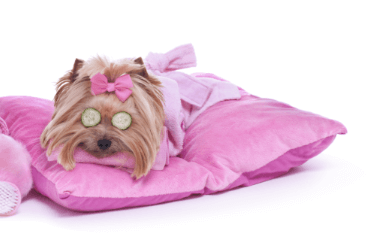 Admission Criteria | Graduating Requirements | Application Instructions
As this is a physically and mentally demanding program, our prospective students are expected to meet these requirements to be considered for admission:
Professional Qualifications:

Level C: Recent The Elite Positive Pet Groomer Graduate with Highest Distinction or Distinction/PCPG

™

/SKC/FCI/EGA/AKC Accredited Pet Groomer Program Graduate within 1 month of Graduation.

Graduates who apply beyond 1 month of Graduation must take an additional assessment test costing SGD400

Level B: Possess

≥

one FCI Level C
Level A: Possess

≥

one FCI Level B

Passion for animals.
Minimum 16 years old and above.
Proficient in English or Mandarin Chinese.
Possess perfect vision (20/20 with or without glasses / lenses).
Not allergic to water, dirt, dust, hair, animal fur, urine, stool, cleaning agents, soap, shampoo and conditioner etc.
Physically and mentally fit.
For safety, pregnant females must obtain a Certification Letter endorsed by their Gynaecologist/Doctor certifying their fitness.
Undergo and pass an interview with a Pawrus® Teacher.
To Graduate, a Student must:
Earn the minimum equivalent of an A- on each component of the assessment process
Fulfill an attendance rate of ≥90%
Abide to the Pawrus

®

Student Code of Conduct
Congratulations on your decision to apply to the Pawrus® Pet Grooming Academy: Certification Knowledge & Skills Program!
An application fee is required with your application. Paying your application fee online is fast, convenient, and secure via PayNow.
Application fees are not refundable. If you are accepted to the program, your entire application fee will be applied towards your tuition.
If Pawrus® declines your application, the entire application fee may be applied towards tuition for another Pawrus® Program if you enroll within 6 months.
Download, Read and Complete the Student Enrolment Form (New Students Only).
Download, Read and Write a Personal Statement.
Download, Read and Submit a Character Reference from a Pet Professional.
Gather all Professional Pet Grooming Certifications into a zipped folder.
Pay the Application Fee via PayNow to UEN: 201424069N (Pawrus Pte. Ltd.) and capture a screenshot with its transaction reference as proof of payment.
E-mail admissions@pawrus.com.sg. Please title your e-mail as "Application to Pawrus® Pet Grooming Academy: Certification Knowledge & Skills (Dummy/Live, Level and Category) – Full Name" and attach the documents stated above to the e-mail.
Incomplete applications will not be processed. We will assess your application once all required information is received. You will be notified of your application's outcome via e-mail.
Step 1: Application.
Getting to know you is the crucial first step. We will be in touch once we have assessed the information that you have submitted. You may be asked to provide more details for us to better assess your suitability for the program.
Step 2: Face-to-Face / Virtual Interview.
Our teacher will get in touch to schedule and conduct a face-to-face / virtual interview with you to understand more about your goals objectively. At this stage, we will examine and address your weaknesses and strengths in past programs and explain the curriculum to you in detail so that you know what to expect if you are accepted for the program. Based on the results of the interview, we will decide if you are suitable to progress to the next stage of enrolment or recommend alternative solutions whenever necessary.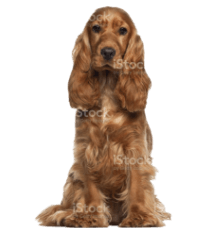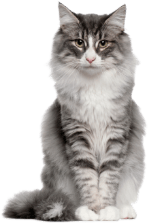 Step 3: Offer and Acceptance.
Congratulations. If you meet the strict requirements set by us, we will inform successful applicants that they have been accepted for the Certification Knowledge and Skills Program! Offers will be made in writing via e-mail. You make the final choice from our offer. Once offered, our offer is only valid for that semester and expires if it is not accepted. We will only send out offers after deliberate consideration. Due to extreme competition and academic rigour required, please expect enrolment standards for this program to be even higher as compared to The Elite Positive Pet Groomer Program. A 100% deposit of the program fees is required to reserve and confirm your space in the intake that you have applied for. If an offer expires, an applicant will have to submit a fresh application and restart the entire enrolment process. Offers may not be held or carried over to consecutive semesters unless under extenuating circumstances. Offers may also be withdrawn at any time at our discretion.
Step 4: Matriculation and Growth.
You are all set. We hope that you are ready to push yourself to the highest physical and mental limit available. Every day, our teachers will challenge you with activities to get you closer to the goals that you have set for yourself. Rise above the rest to be with the best. We are looking forward to working with you to surf the waves to take home the top awards in the pet grooming industry.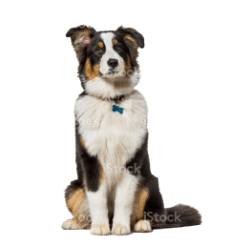 Have Questions?
Let's Have A Chat!
For Non-Urgent General Interest In Our Programs, Please Contact Us Below. We Will Attempt To Reply Within 3 Working Days. We Look Forward To Working With You To Achieve Your Desired Objectives.
Contact Us